Related products
Product detailed description
FIGHT FOR BEARD
A universal comb that's almost a work of art. A killer that combs first and asks questions later. Hair, beard or your kitten's beaver, this little guy does it all. Practically indestructible teeth made of polycarbonate used in car manufacturing can get through even the most hellish tangles and blind spots. A sturdy tool that stays in your hand like it's nailed there. It's a joy to work with. Let's just preface this by saying that for the most massive beards, the teeth can be quite short. So, if you're shopping for extra-long, check out the Dual Comb. For everyone else, the Combat is the perfect brother in arms.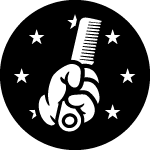 UNIVERSAL SOLDIER
Hair, beard, or your kitten's beaver. It's all the same to this universal killer. Combs first, asks questions later.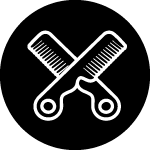 Total diehard
Made of durable polycarbonate. That's the stuff that makes the only dummies that can survive a plane crash. We're not going to be breaking teeth on any tangles.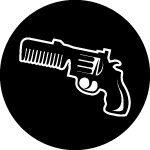 Rough finish
The matte black finish pays tribute to guns and self-defence knives. Plus, it's anti-static, so you don't have to stand on a rubber mat while you comb.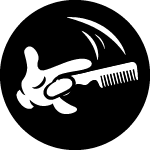 TACTICAL DESIGN
Quick to draw and never let go. The two main reasons for a tactical finger hole. Otherwise, this design appeals directly to chicks, so give it a spin!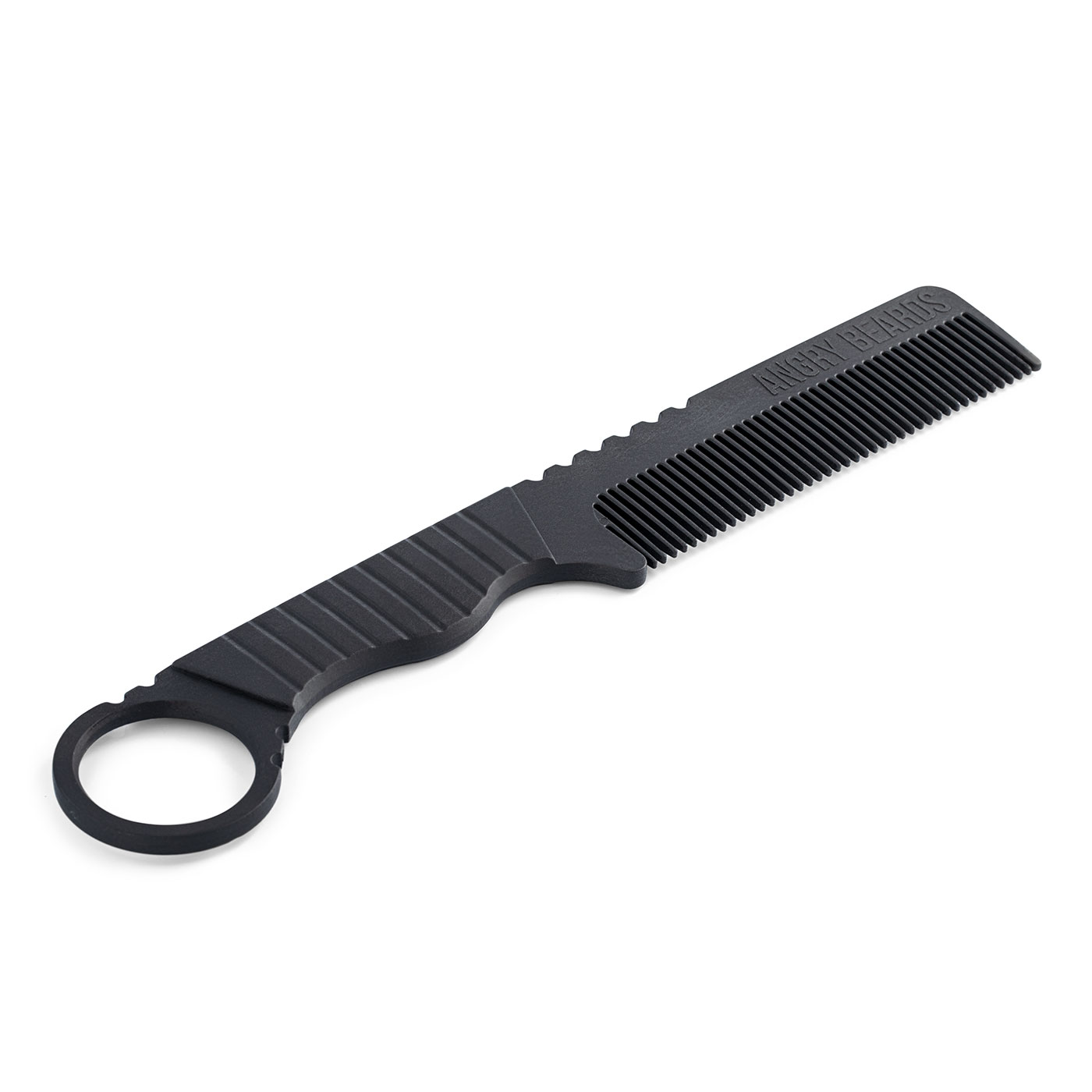 SIMPLY TACTICOOL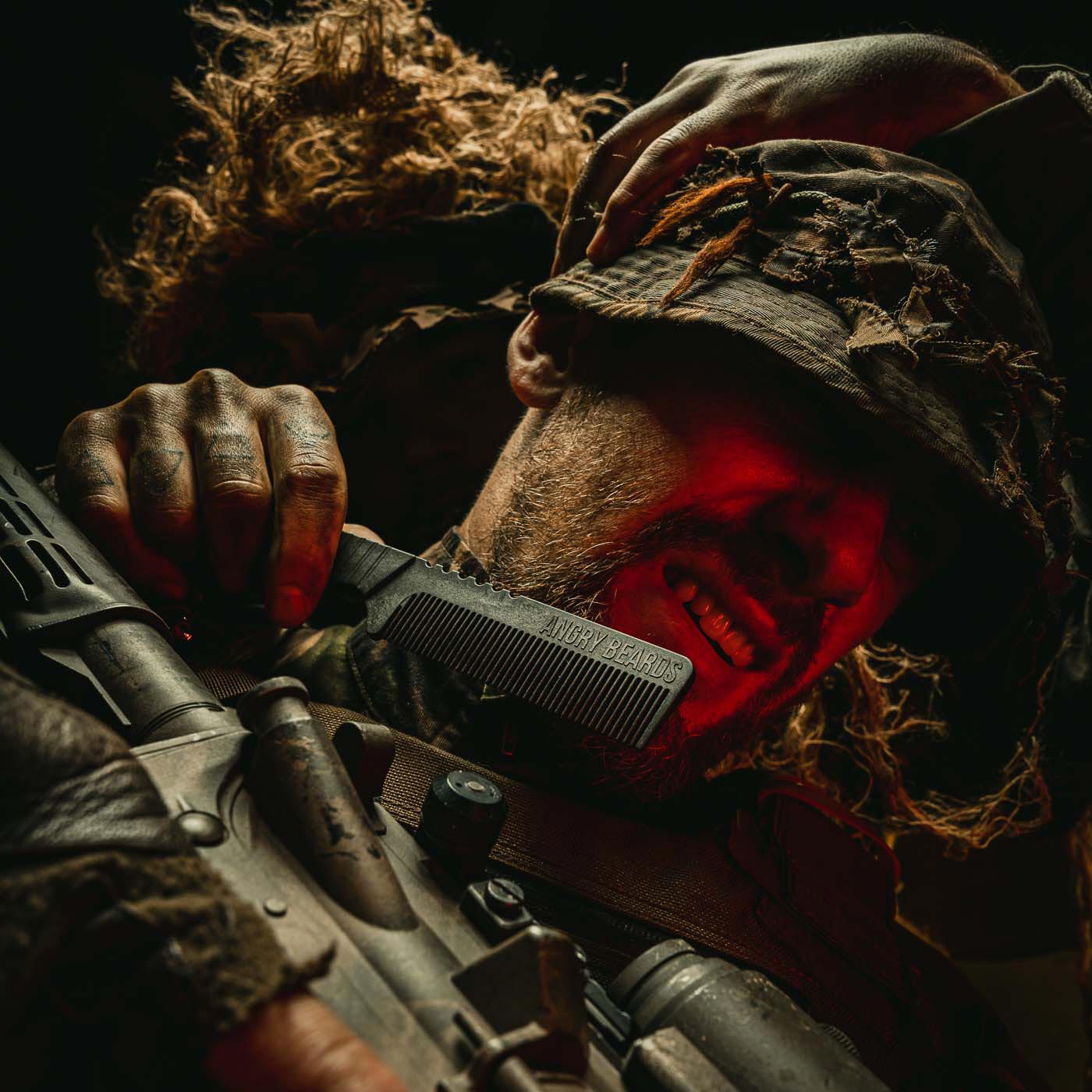 You can use a comb. Or, you can use Combat Comb. I guess we don't have to tell you which one the little boy hiding inside every guy will reach for first. The handle design was inspired by the karambit, which is a famous self-defence knife. You can use the tactical finger hole for a lightning-fast draw, switching to a reverse grip and not even a raging Van Damme will kick it out of your hand.
If you carry your Colts damn low, you'll love the Combat Comb. But if you're looking for something more subtle, check out Angry Beards wooden beard comb or the schizophrenic Dual Comb.
#tab-Why you want it#
Universal beard and hair comb
High quality polycarbonate construction
Matte anti-static finish
Tactical Design with a hole for your finger
Proudly produced in Czechia
#tab-Why you want it#
​
#tab-Use#
Draw out your comb in one quick smooth motion and go to work no questions asked. Comb for your life, but remember that every stroke could be your last, so don't let a single movement be in vain. May all the wounds be mortal.
Not sure if you're combing your beard right? We'll give you some advice. Rub it well with oil or balm and start in the middle of your neck. From the bottom, slowly work your way up and to the sides. If you get stuck on a knot, don't try to force it out. Gently and smoothly untangle your beard. Then just brush your beard from the top to its original state, comb through your moustache, and you're done.
#tab-Use#
​
#tab-Construction#
The Combat Comb is exactly 22.5 cm long, 3.5 cm wide and 0.6 cm thick. In short, it's designed for a man's paws. Its proper handle has a tactical finger hole at the end that turns every combing into a complete one-man show. Besides the various extras, it's also a safety in case your enemy tries to disarm you, because no one will ever tear this comb from your hand. The killer matte anti-static finish and durable polycarbonate teeth need no explanation.
#tab-Construction#
Be the first who will post an article to this item!