Related products
Product detailed description
TIP-TOP BEARD
We produced this comb from sandalwood, which is renowned for its antibacterial and anti-static properties. We fitted it with so-called double teeth with a total of 69 teeth. On one side are wide teeth for the initial brush-through, and finer teeth on the other side for the final brush-out. Ideal for full beards.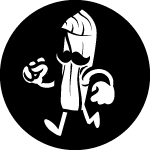 Sandalwood
Why sandalwood? One look shows you it's a noble material, and one touch that it's pleasant and it even has antibacterial and anti-static properties. What more could you want?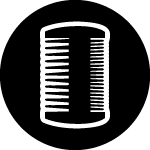 Double teeth
Slowly and gently with the wide teeth at first and then move in with the narrow ones and don't stop till you reach ecstasy. That's the magic trick for perfectly combing your beard without pulling half of it out.
Compact size
This 10 cm buddy will keep you company on the shelf in the bathroom as well as in your trousers pocket. At home, on trips, at the gym, at your lover's – wherever you go with it.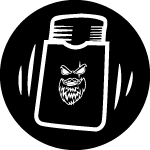 Safely in the sheath
You don't have to worry about scratching it, getting it dirty of even breaking off one of its teeth. Angry Beards wooden comb comes in a protective case.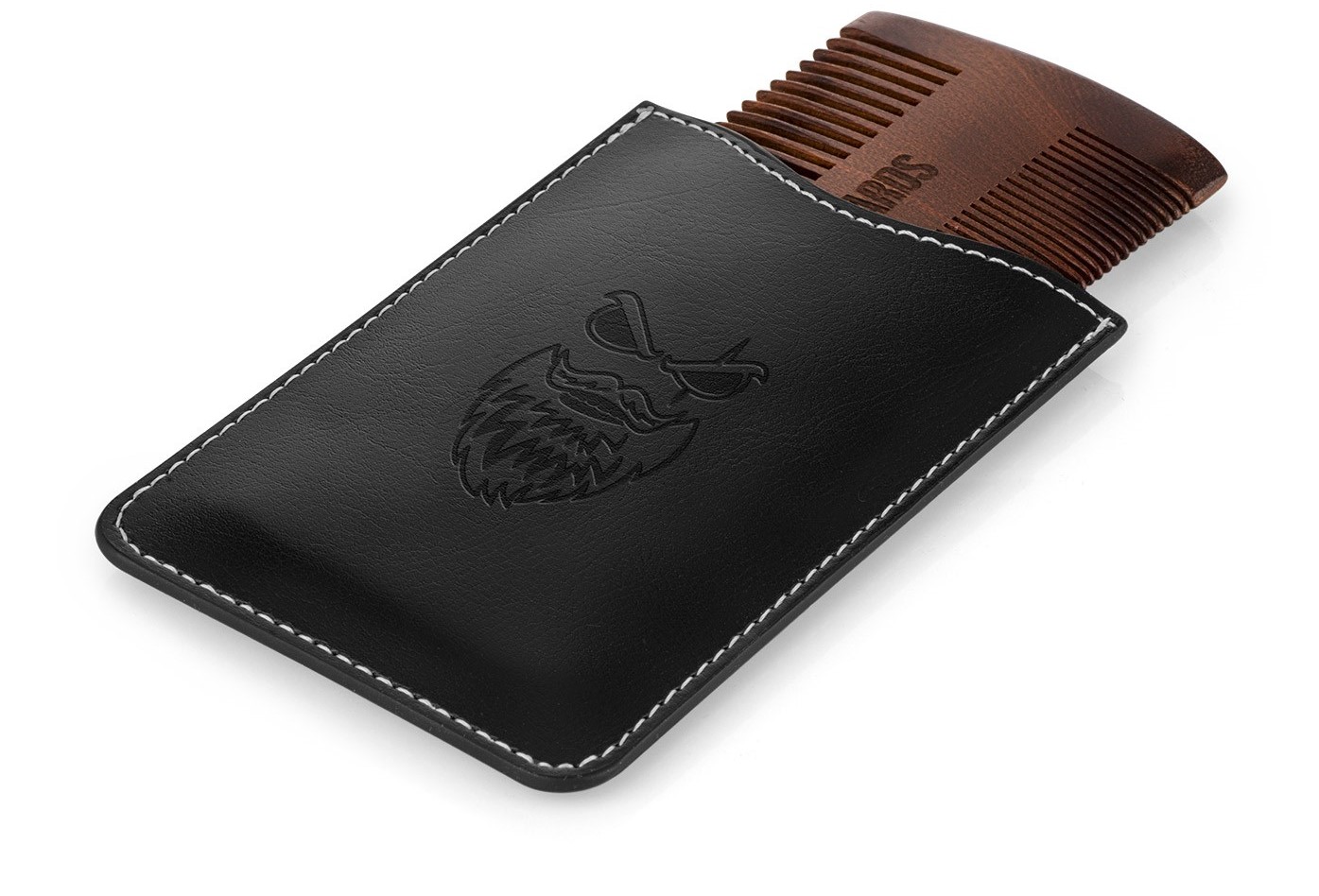 ELEGANCE IN A SHEATH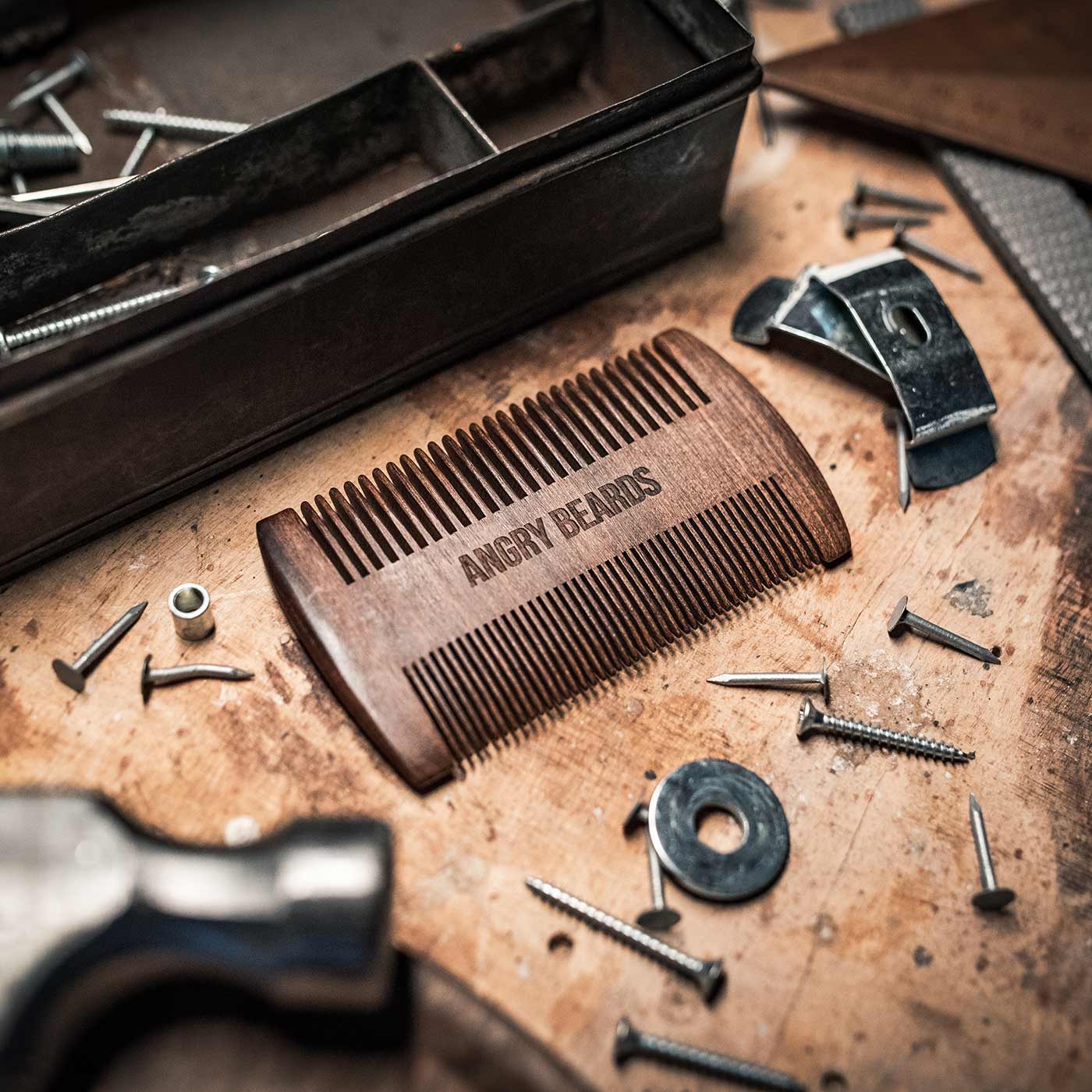 An honest 10 centimeters that fits any hand like a glove. We've even packaged it in an elegant case of vegan leather – 100% vegan, organic and gluten free. This way your comb can keep you company both on your shelf at home and you can flash it in sophisticated society.
f you're worried that the wooden comb won't stand up to your rough treatment, check out the sturdy beauties made from anti-static polycarbonate. The self-defense Combat Comb or the schizophrenic Dual Comb.
#tab-Why you want it#
Perfect combing from roots to tips
Made of sandalwood
Fully anti-static construction
Ideal proportions and shape
Case from vegan leather
#tab-Why you want it#
​
#tab-Use#
This comb is made for tangled beards. A row of wider-spaced teeth initially tunes the beard, then you bring it to perfection with the finer teeth. Ideally, comb it after oiling, balming or lubricating with other materials to avoid breaking or tearing your beard.
Not sure if you're combing your beard right? We'll give you some advice. Start in the middle of your neck and from the bottom, slowly work your way up and to the sides. If you get stuck on a knot, don't try to force it out. Gently and smoothly untangle your beard, ideally using beard oil or balm or another lubricant. Then just brush your beard from the top to its original state, comb through your moustache, and you're done.
#tab-Use#
​
#tab-Construction#
We made the comb from sandalwood - the perfect material to not worry about static electricity. It's a fair 10 × 6 cm, but you can still put on a decent show with this little fella. It fits beautifully in your trousers pocket. Plus, we add a synthetic leather case so you can comb on the go.
#tab-Construction#
Be the first who will post an article to this item!