Beard Straightener – Beard iron
Related products
Product detailed description
TWO TIMES LONGER
Up to twice as long in just a few minutes! Until now, this was a slogan used exclusively in porn site ads. We're borrowing it with thanks because it will be true for us. It depends on the growth, but give it a shot and see how much longer the Beard Straightener will make you. Of course, you don't have to stretch your beard like sweatpants elastic, you can just gently turn down the heat to tame your unruly whiskers.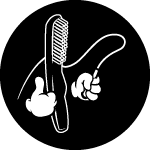 THE STRONGEST CALIBER
Beard Straightener is the strongest caliber for beard grooming. Balms and waxes don't do nearly as well at detangling. It straightens uncompromisingly.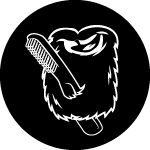 STRAIGHTENING AND STYLING
Want to lengthen your beard to the max? Fine. Or you just feel like taming your beard into formation? That's fine, too. Simply lower the temperature and you'll get your beard into shape.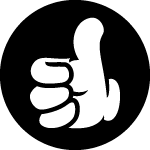 TOP NOTCH
The brush is made by tiny hands in China, but don't worry. We've spared no expense and you'll get your hands on the top tools for the most demanding brushing.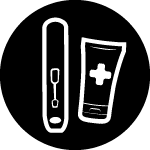 ALL IN
You should straighten at the lowest temperature the beard responds to, and always with protection. That's why we throw in free Heat Protector with every piece.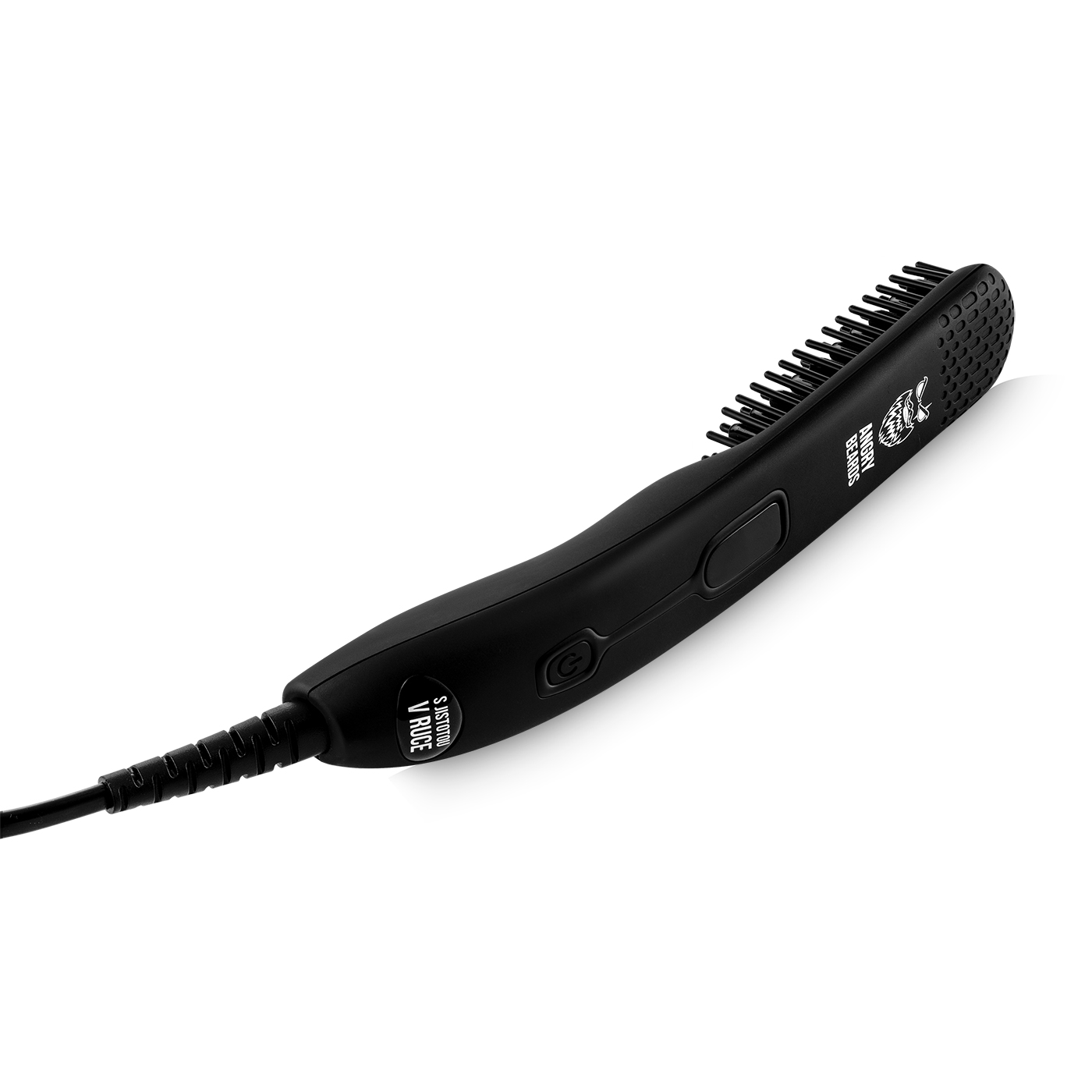 START FROM THE BOTTOM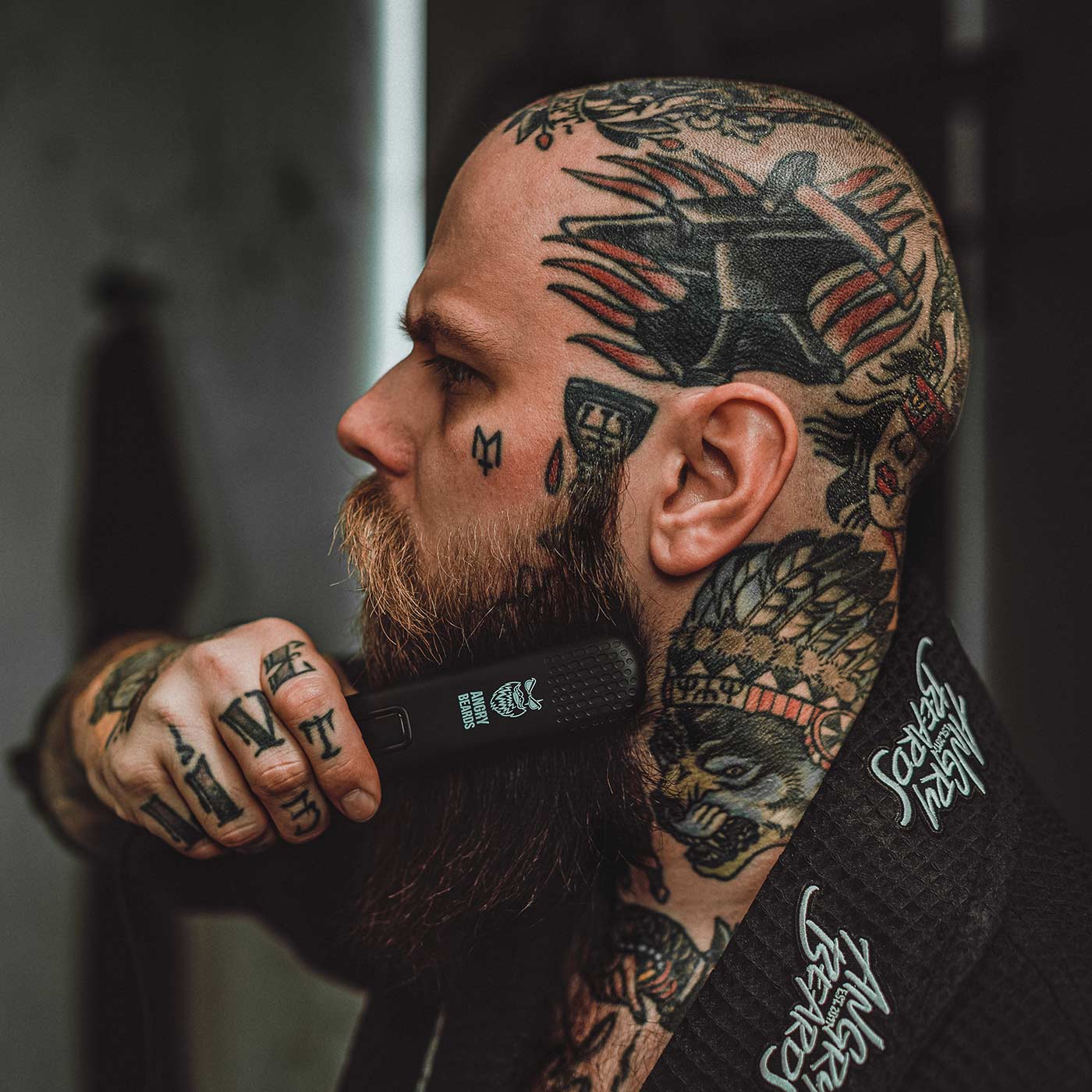 The Straightener is a bad-ass tool straight out of Tony Stark's workshop, not a Chinese factory. Ceramic-coated heating units, negative ion technology, quick heat up in 60 seconds, 6 temperature modes and a 30-minute shut-off safety in case you accidentally forget about it due to the excitement of the result.
It can also handle temperature regulation between 120 and 220°C. Straightening your beard? You'll appreciate a higher temperature, but a lower one will do for regular styling. Each temperature does its own thing, and each beard behaves differently when heated. So, start from the bottom and work your way up, depending on how the beard reacts. We're like, "...started from the bottom, now we're here."
#tab-Why you want it#
Precise straightening of crooked characters and beards
Tamer of unruly beards
6 temperature modes
Ceramic coated heating units
Free Heat Protector for burn protection
#tab-Why you want it#
​
#tab-Use#
The first condition for the Straightener to be of any use to you at all - you must have a length of over 5 cm. I wish this was enough for the ladies. The exact instructions can be found in the enclosed manual, but it looks something like this:

• Wash, comb and dry your beard thoroughly so you don't get crumbs in it.
• Wait for your beard to dry.
• RApply Heat Protector evenly to the beard. Always brush with protection, although even the maximum temperature of the Straightener should be unable to scorch your growth. Without protection, you're on your own.
• Choose one of six temperatures. The higher the temperature, the more effective the straightening, but the lower the temperature, the better for your beard.
• And then you just work through your beard from roots to tips until you're satisfied. But don't torture your beard for more than 5 minutes.
Finally, apply oil or balm to the beard for nourishment and you have a beard straight as a gunshot.
#tab-Use#
​
#tab-Construction#
A stylish black electric brush with an ergonomic handle for grooming with confidence in your hand. Heat Protector is included free of charge.
• Voltage:100-240V
• Frequency 50/60 Hz
• Power 19 W
• Heating unit: PTC ceramic coated units
• Temperature range: 120–220 °C
• Cord: 175 cm
#tab-Construction#
Be the first who will post an article to this item!