Gentler brush and beard comb set
Related products
Product detailed description
SANDALWOOD & BEECH & BOAR
The comb is made exclusively of fully anti-static sandalwood and offers two levels of combing coarseness. The brush is made from a proven combination of beech wood and boar bristles. The cool wooden handle has rounded edges in a 10.3 × 6.3cm oval, so it fits perfectly in any hand. We've set 420,000 boar bristles into the Gentler brush that ensure high-quality brushing of shorter beards. For longer beards (over about 7cm) the set with the Harden brush is probably better. Which one you choose is entirely up to you, though.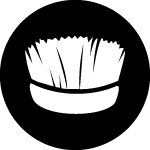 Brush
Brushing is damn enjoyable, but also incredibly healthy for your beard and skin. Regular combing is recommended by 420 of the 69 beardologists surveyed.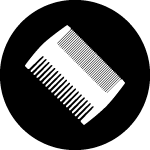 Comb
Two sides. A coarser one for initial beard tuning, a finer one for final combing. Now hold on, it works on hair too! OMFG!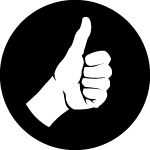 Peak bearding
This two-pack will defuse tangles, rid your beard of dead cells, massage your skin and encourage growth. Kind of like the two right hands of the Indian god Vishnu.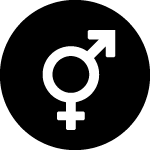 Sheath and sack
Brush in a sack, comb in a sheath. Always protected, always warm. As always, Angry Beards tools come with all the essentials.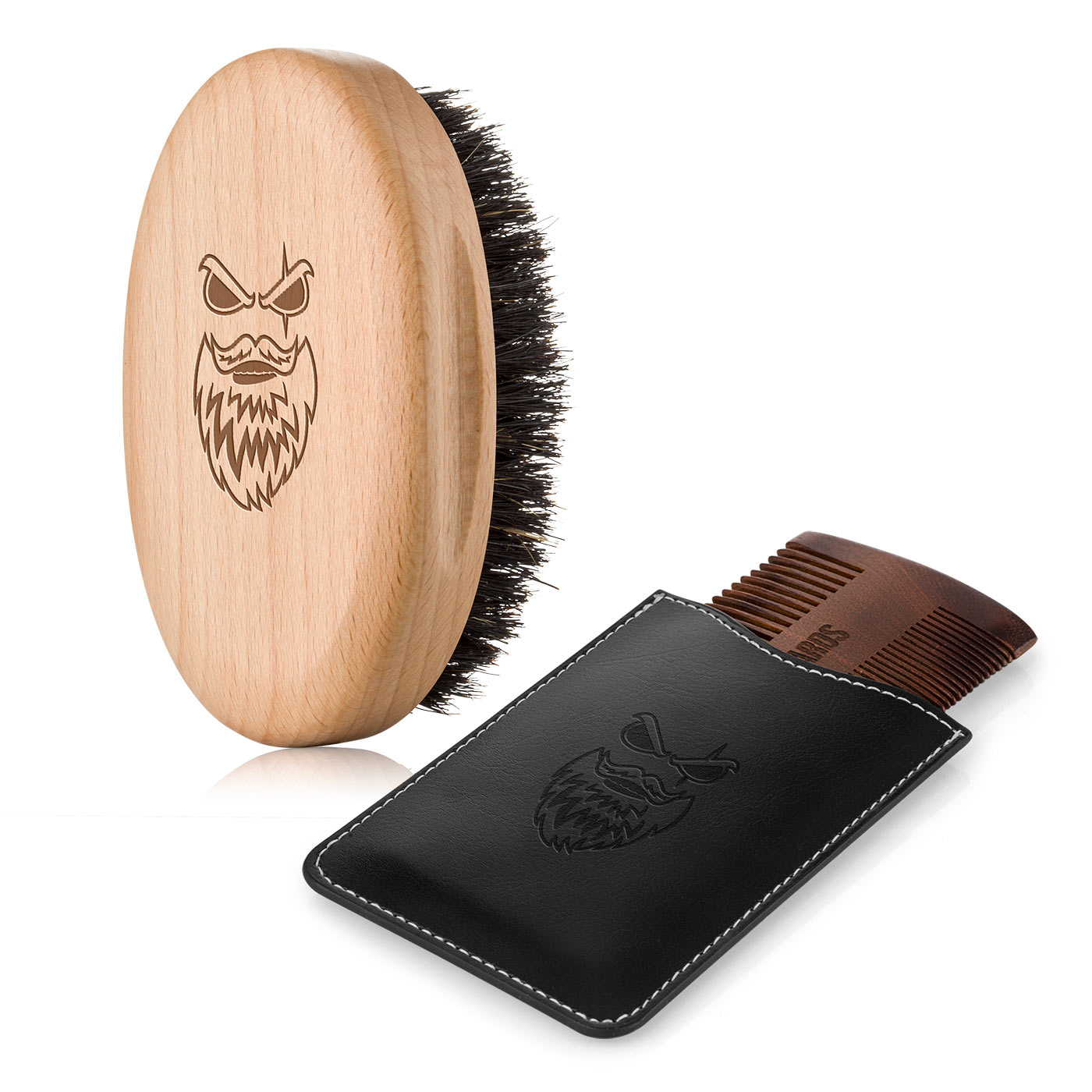 AN IDEAL GIFT FOR YOURSELF AS WELL AS FOR A LOVED ONE
TWO RIGHT HANDS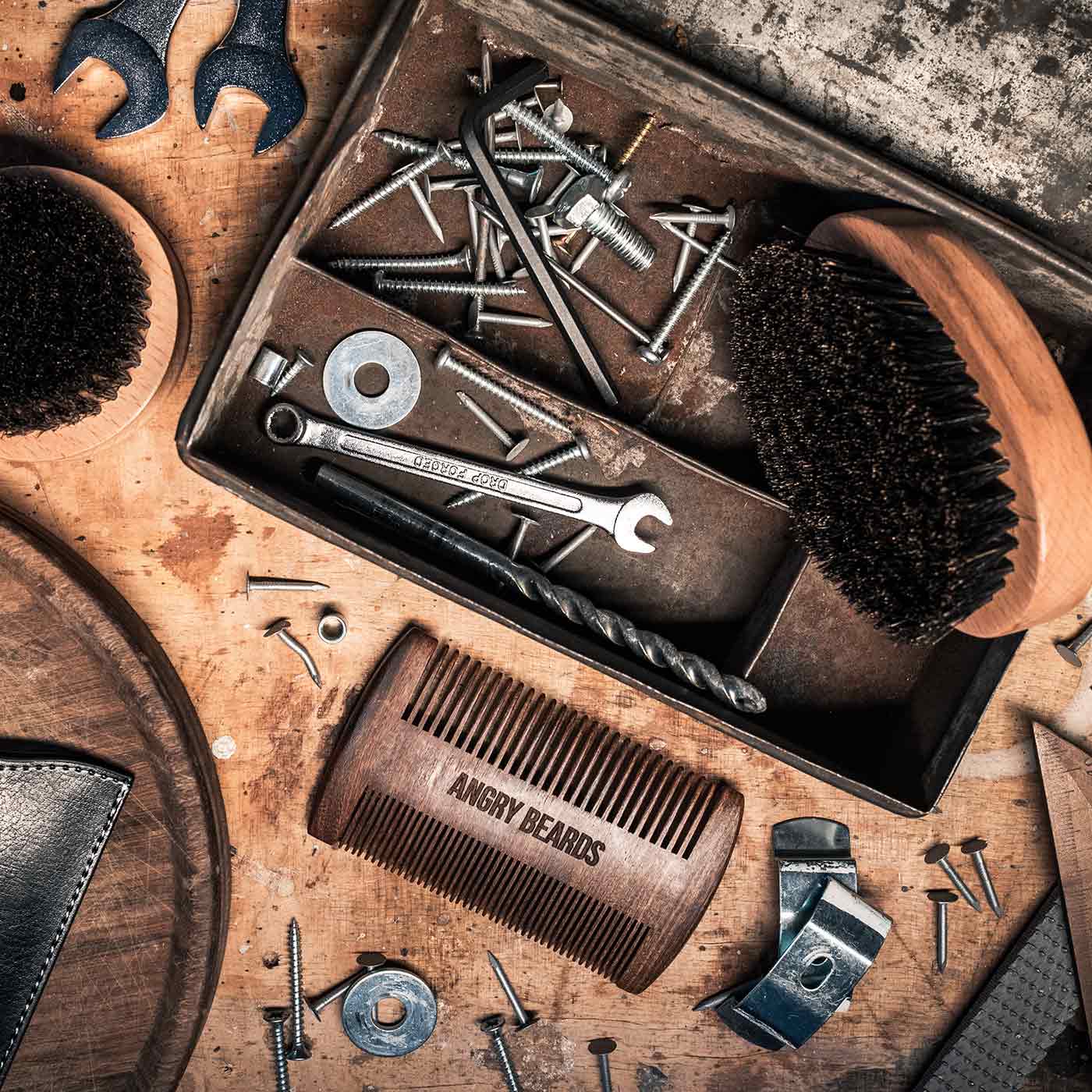 A comb and brush are like the two right hands of the Indian god Vishnu for every beardie. It may not be a must-have like beard oil, but it's a one-time investment you'll never regret. Being groomed is just as important to beardies as being prepared is to Boy Scouts. For example, the Vikings were well-groomed in every situation and people really remembered them because of it. The question is whether this wasn't helped by the intense pillaging of villages and raping of women, but I guess we'll never know.
​
And if you're looking for a set as a gift for a close beardie, you're in the right place. He'll fall in love with this twosome and they'll stay with him for the rest of his life. And if he's been really super good, throw in a beard care set.
#tab-Why you want it#
Perfect brushing from roots to tips
Skin stimulation for more robust growth
Comb made of sandalwood in a beautiful sheath
Brush from beech wood with dense boar bristles for shorter beards
Fully anti-static materials
#tab-Why you want it#
​
#tab-Use#
This comb is made for tangled beards. A row of wider-spaced teeth initially tunes the beard, then you bring it to perfection with the finer teeth. Ideally, comb it after oiling, balming or lubricating with other materials to avoid breaking or tearing your beard.
Brushing comes right afterwards. Brush your beard ideally after applying oil, balm or wax. Avoid dry brushing, it's harsh and can break and damage your whiskers. Brushing your beard once or twice a day is absolutely enough – here, too, less is more, as too much brushing can start beard loss.
#tab-Use#
​
#tab-Construction#
Comb – We made the comb from sandalwood - the perfect material to not worry about static electricity. It's a fair 10cm × 6cm, but you can still put on a decent show with this little fella. It fits beautifully in your pants pocket. Plus, we add a synthetic leather case so you can comb on the go.
Brush – The brush measures 10.3 × 6.3cm. Following Beardon's Law, we have enriched the handle with aerodynamic cut-outs on the sides. The beech wood is complemented by boar bristles with proven anti-static properties. Gentler has softer bristles purely from boar (ideal for shorter beards to 7cm), but if you have a longer beard, we have the same set with the Harden brush.
#tab-Construction#
Be the first who will post an article to this item!