Shaving set with Garrigue shavette
Related products
Product detailed description
BOOM BOOM POW
The shavette is the successor to the classic razor. The only difference is the blade. The shavette doesn't have one, and a disposable razor blade is inserted into it. This eliminates the worry of sharpening and stropping the blade. The feel of the traditional shaving ritual and the precise contours still remains. Garrigue is a minimalistic stylist that combines high-quality steel with an anti-corrosive Teflon finish and waterproof Pakawood handle material. If you have a soft spot for last century's honest manufacturing, we still have the same set with an honest Žižka shavette.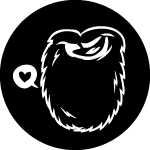 THE WHOLE SHEBANG
Complete gear for shaving. Transparent gel so that you can see beneath the blade. Poisonously sharp shavette. And balm for calming your pissed-off skin. You need nothing more.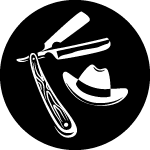 SKINNY TOP
This minimalistic shavette is the very top without an ounce to spare. And the cosmetic materials are perfected with a dash of Jack Saloon fragrance.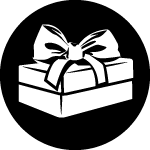 PAPER GIFT BOX
You can gift this splendor as soon as it comes to you. It's pimped out to the smallest detail, ready to make you happy.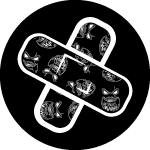 EXCLUSIVE BAND-AIDS
The only way to get your hands on exclusive Angry Beards band-aids, which will save any situation where your hand has failed.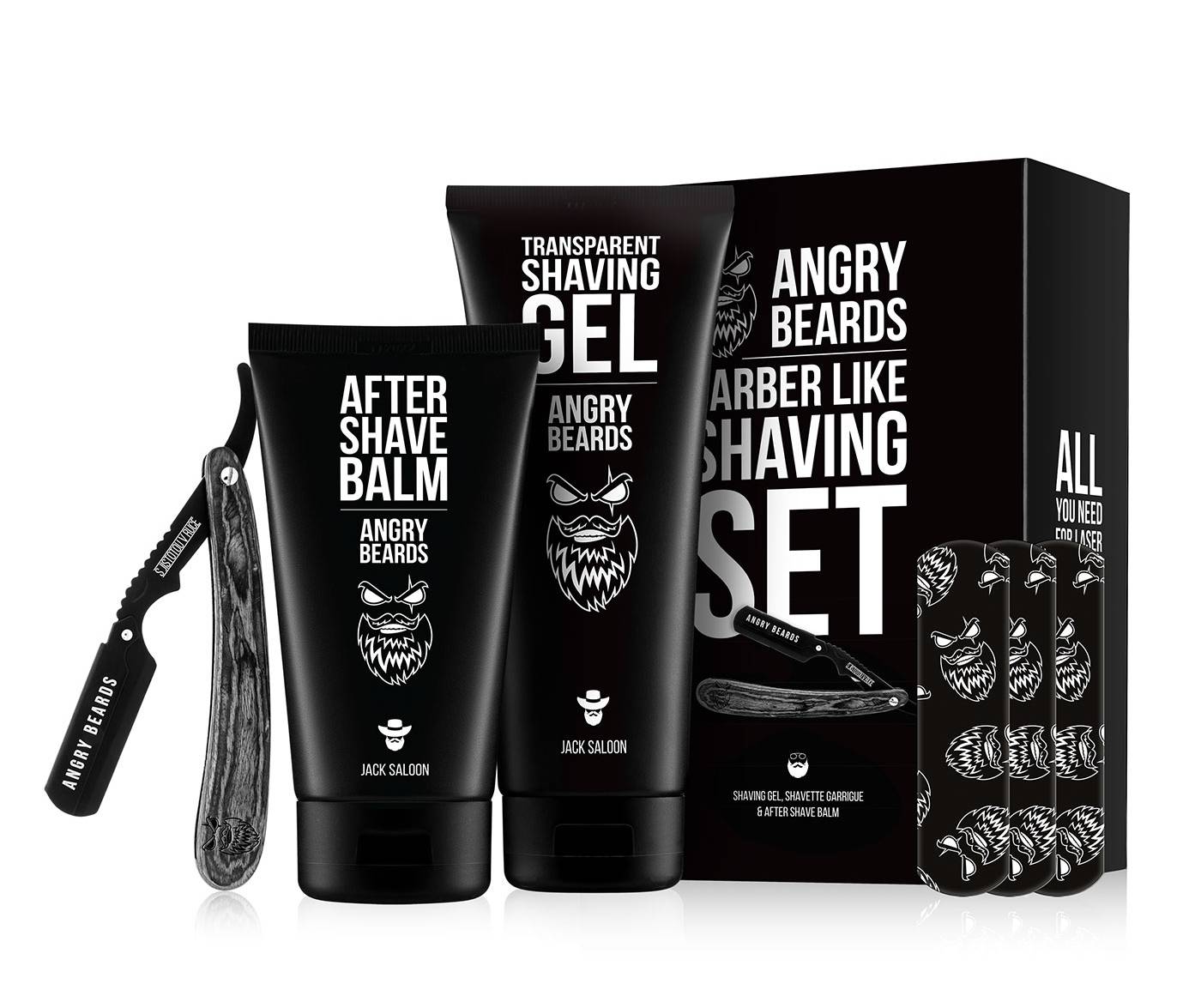 EXCLUSIVE BAND-AIDS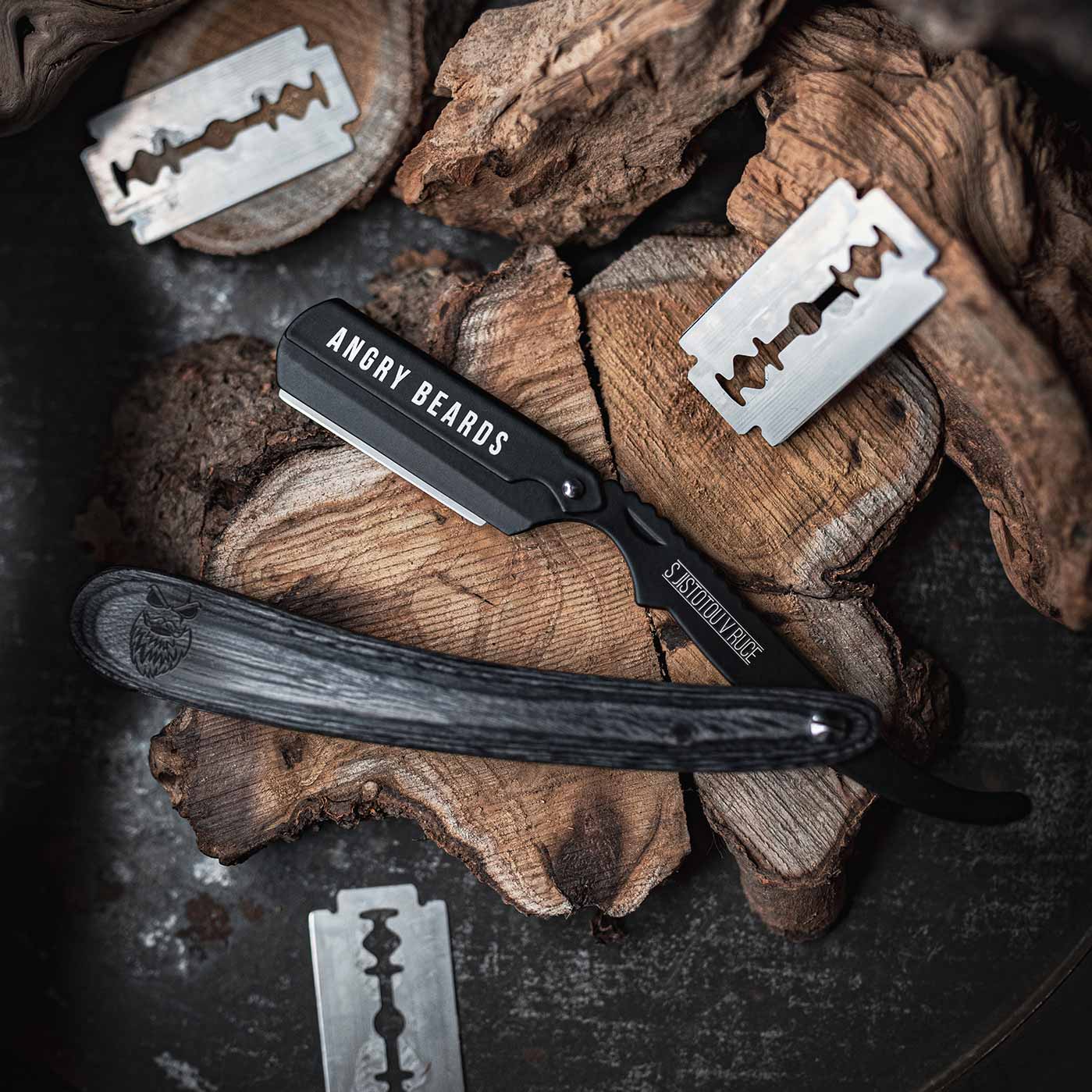 Even the gentlest pass of a sharp blade strips the skin and removes its protective layers. Plus, it leaves wounds, so if you don't want to be covered in spots for a few hours after shaving, we've thrown in two essentials. The first is a transparent gel that reduces friction under the blade so your skin doesn't even notice you've shaved it free of whiskers. There are a couple of caring agents in the gel, but since you wash it off immediately, you need to soothe your skin with an after-shave balm that will inject it with regeneration and nourishment.
As is our custom, we've perfected every detail. We've infused both cosmetic materials with a drop of Jack Saloon fragrance, so you won't be mixing it with MORE perfume or beard oil. The shavette comes to you in a sweet sheath. And to bring even the toughest beardies to their knees, we added angry band-aids to it.
#tab-Why you want it#
Complete set for shaving
Transparent shaving gel with super glide technology
Lightweight minimalist Garrigue shavette with razor blades
Delicate aftershave balm with band-aids, just in case
All in a gift box ready to make you happy
#tab-Why you want it#
​
#tab-Use#
Here we'll briefly tell you how to go about it and check out the complete manual with individual products.
Shaving gel – Apply a thin layer of gel to the skin you plan to shave. Massage it in neatly and immediately start shaving to your throat's (or face's) content. Always with a perfectly sharpened razor or shavette and always in the direction of growth to avoid unnecessary irritation. While shaving contours with the transparent gel, you don't nick yourself because you see beneath the blade the whole time.
Shavette – You break the razor blade in half while still in the paper (yes, both halves can be used), undo the safety at the end of the shavette, separate the two arms and insert half of the razor blade. You snap the arm over it and then replace the safety. Now you're ready to cut. Whether you're just going for contour tuning, or going for the neck as well, the shavette won't kill you (hopefully). There's only 0.5 mm of blade sticking out, so even a novice shaver won't cut too deeply.
Aftershave balm - After shaving, dry your skin and apply a reasonable amount of balm. Spread it, but don't massage it in. The skin is already pissed-off from the blade, so try not to irritate it more. There's minimal room for error, though, so feel free to go ahead.
And in case your hand slips, we've added some pissed-off band-aids that you don't have to be embarrassed to show off in public.
We've put together a detailed How to shave properly guide for beginners on our blog.
#tab-Use#
​
#tab-Construction#
We've packed everything a guy needs for a proper shave into a sturdy metal box.
Shaving gel: 1 tube 250 ML (see Saloon Shaving Gel for ingredients)
Shaving razor: Garrigue shavette and a pack of Derby Premium razor blades (for construction, see Garrigue shavette)
Aftershave balm: 1 tube 150 ML (for ingredients see Saloon Aftershave Balm)
Angry Beards band-aids: 3 band-aids with the pissed-off beardie
#tab-Construction#
Be the first who will post an article to this item!