Related products
Product detailed description
PLEASE THE BEARD-LOVERS
In this set, you'll find a must-have arsenal of beard products that every beardie will use for basic beard growing. The main function of the oil is to nourish the beard and skin so that the beard doesn't itch and everything grows healthily. The balm works similarly, but thanks to the addition of waxes, it will protect the beard even in harsh conditions. The wax itself is a styling king that will pull the beard into shape. And the shampoo is a no-brainer for anyone who's ever tried to lick off a baking pan. Whether you're planning on pleasing a bearded pal or pleasing yourself, you'll score with this pimped-out gift.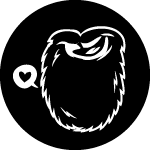 THE WHOLE SHEBANG
Everything a beard desires. Shampoo washes the beard, oil and balm take five-star care of you and the wax then pulls the beard into the desired form. What more could you want?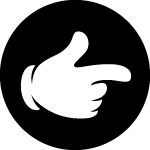 JACK & SMOOTH NEBO CHRIS & CEO
That is the question. Choose which scent of oil and hardness of balm you prefer and then decide whether we should wrap the set in Angry Beards wrapping paper.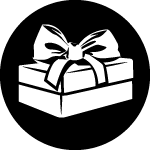 GIFT BOX
You can give this splendor as a gift as soon as you get it. It's pimped out to the smallest detail, but if you want to doubly please someone, grab the gift version.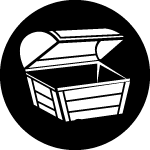 MULTIFUNKČNÍ VYUŽITÍ
After emptying it, don't throw the metal box into the recycling. Fill it with Angry Beards gold, or store anything from screws to Pokémon in it.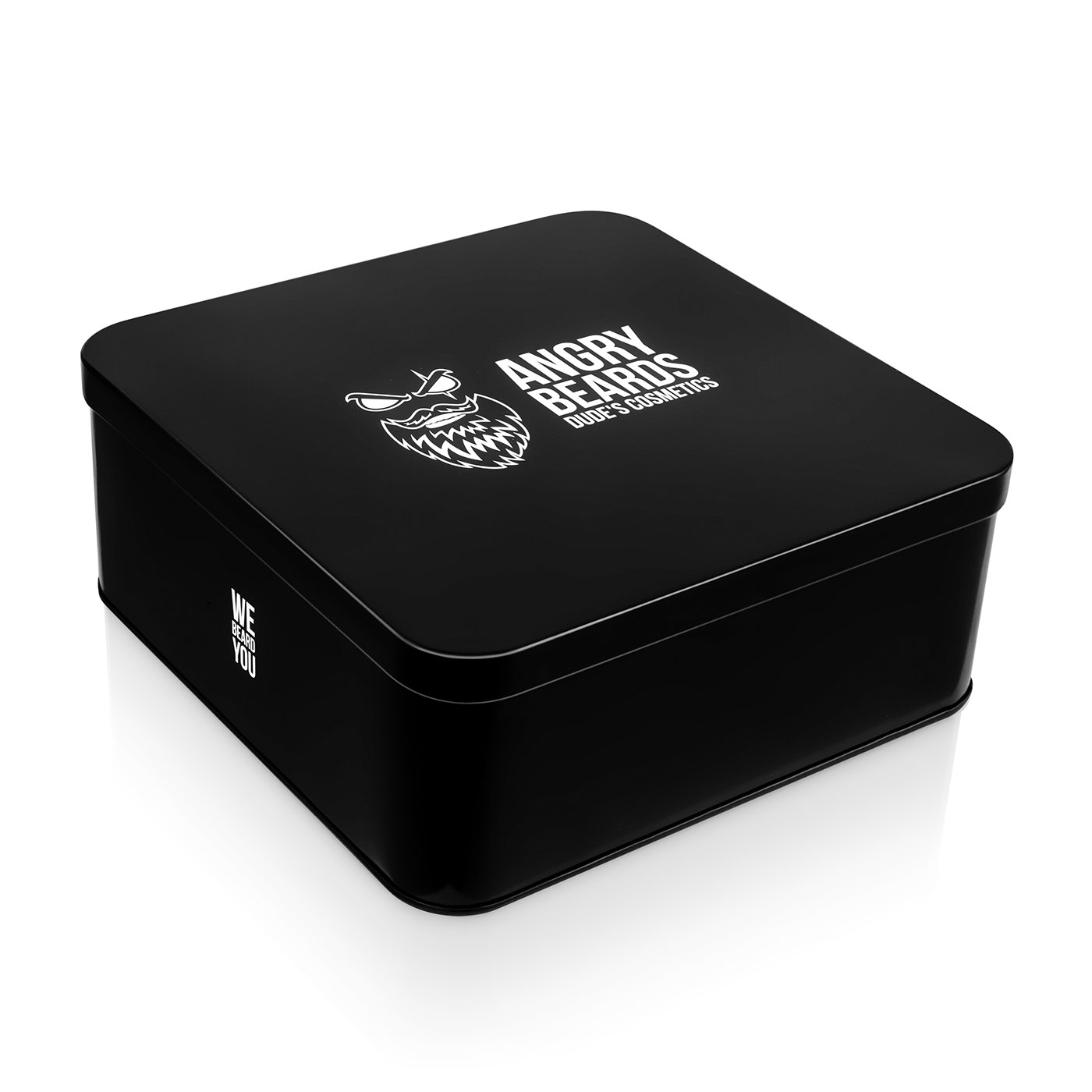 3 F*ING POSSIBILITIES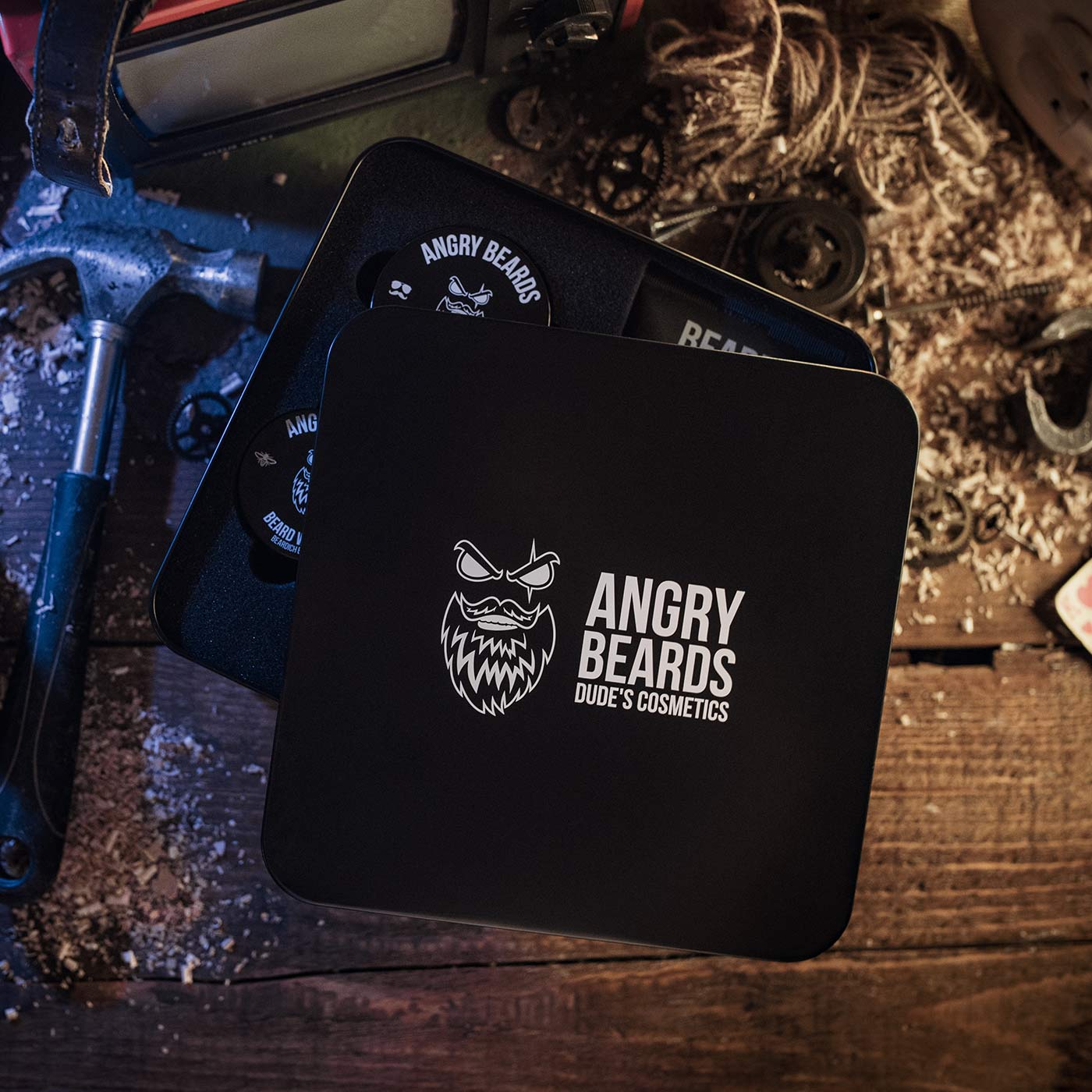 We make the set in a few variations, which differ quite substantially from each other. First, you should consider how uncompromising you need the styling to be. In this set, there's Steve the CEO balm, which is the hardest for maximum styling. If your beard isn't too fussy and you appreciate an easier application, we have the same set with the Smooth balm, which spreads like butter. Then just decide if your beard prefers the scent of Christopher the Traveller, part of this set, or Jack Saloon, which you can find in the second set with Carl Smooth balm (both are divine btw).
But you will have to make other f*ing decisions. Is the set enough for you in its fancy metal box, or should we wrap it in Angry Beards wrapping paper? Are you going to buy Angry Beards gold for the metal box, or would you rather use it to store Pokémon cards? And doesn't the lucky person also deserve a Comb and Brush Set, or they weren't really that good this year and they'll have to wait?
#tab-Why you want it#
Complete grooming for beardies
Shampoo, oil, hard balm for max styling, and wax
Cleanliness, nourishment, and grooming all in one box
Deluxe black-and-white box
Proudly produced in Czechia
#tab-Why you want it#
​
#tab-Use#
Here we'll briefly tell you how to go about it and check out the complete manual with individual products.
Oil – Use the oil on your damp beard and skin once or twice daily. Drip 3–6 drops of oil into your palm with the pipette. With your hands, work the oil into your beard all the way to your chin. It's not rocket science, simply rub your entire beard and lightly massage your skin with your fingers. For maximum effect, brush your beard after application.
Balm – Use your finger to scrape out the necessary amount of balm depending on the length of your beard. Rub it in your palms to warm it up and apply evenly to your beard and moustache. Use your fingers to massage the balm into your beard and skin to ensure it gets everywhere. We mainly recommend the balm for outdoor protection. Feel free to apply 1-2 times a day or as needed, they're not antibiotics.
Wax – A purely functional affair to help tame the unruly beard. You can apply it solo, just scrape it out and warm it up by rubbing it in your palms. The other option is to enrich the wax with a balm for stronger styling, but always add it to the palm of your hand and rub it in thoroughly with the balm to warm it up.
Shampoo – Put into your palm an amount corresponding to the length of your beard and then lather it lightly. Apply the shampoo to your beard all the way to the skin and massage it in with your fingers. Then just rinse with lukewarm water. We fine-tuned the ingredients to be as gentle as possible. With a clean conscience you can use the shampoo anytime you need, even every day. Usually once every 2-3 days will be enough, though.
We've broken down the whole routine for you on the blog in the article Beardie's Day.
#tab-Use#
​
#tab-Ingredients#
We've packed everything a good beard needs into a sturdy metal box. With the oil and balm, you can choose from two combinations, but you can't go wrong with either of them:
Christopher the Traveller Oil (lighter legendary scent) Steve the CEO Balm (a harder balm with the luxurious spicy scent of success)
Jack Saloon Oil (signature scent) Carl Smooth Balm (soft balm with a scent of almond butter and rare woods)
Beard Shampoo: 1 tube 300 ML (see Beard Shampoo for ingredients)
Beard Oil: 1 bottle 30 ML (see Beard Oil for ingredients).
Beard Balm: 1 pack 50 ML (see Steve the CEO for ingredients)
Beard Wax: 1 pack 30 ML (see Beard Wax for ingredients)
#tab-Ingredients#
Additional parameters
Category

:

Sets
product

:

BR-BALM-CEO-50;BR-OIL-TRAVELLER-30;BR-SHAMPOO-250;BR-WAX-30
Be the first who will post an article to this item!