Related products
Product detailed description
SHAKEN, NOT STIRRED
How do you like your martinis? Do you prefer beer? We do too. But every man's life sends him on the occasional mission that requires a jacket and a dress shirt. And when you go to a gala, you go in style. All the gadgets in this set were made by Q just for you, an angry agent with a license to kill. Antistick will expand your spectrum of dance moves when you're chasing skirts at the ball because you won't be held back by a sack stuck to your thigh. And should you decide to hit the poker tables at the casino, you'll get away with outrageous bluffs with Antisweat because your basement will stay drier than the Sahara Desert.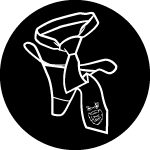 Tie-tip tango
Artificial silk woven with light crosshatching. The tip of the tie is pimped out with a hidden beardie. Can handle tastings, dancing and late-night frolicking in a hotel room.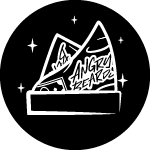 Bourgeois handkerchief
Black and gold handkerchief printed with real manly artifacts. Don't carry it crumpled in your pants, but neatly tucked in your breast pocket for the world to see.
Bourgeois handkerchief
Cufflinks so smoking, if you don't already have a button-up shirt on, this is a reason to change. Order the Angry Beards 007 set and go straight to the dress-shirt shop.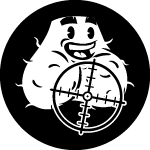 Your sack will not betray you
The two most powerful weapons no agent goes into the field without. Depending on the nature of the mission, choose either a friction reducer or a deodorant.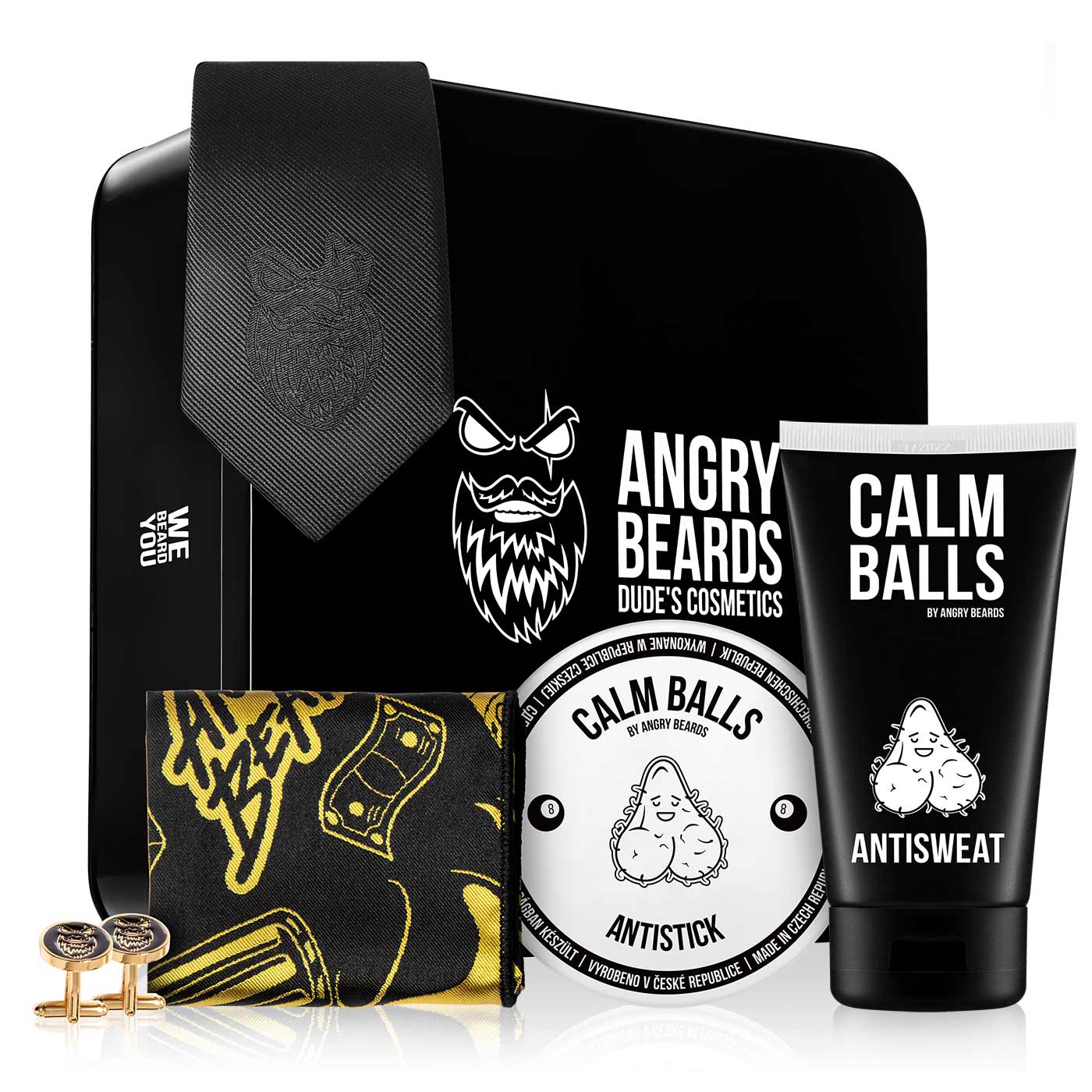 A MOMENT FOR A MAN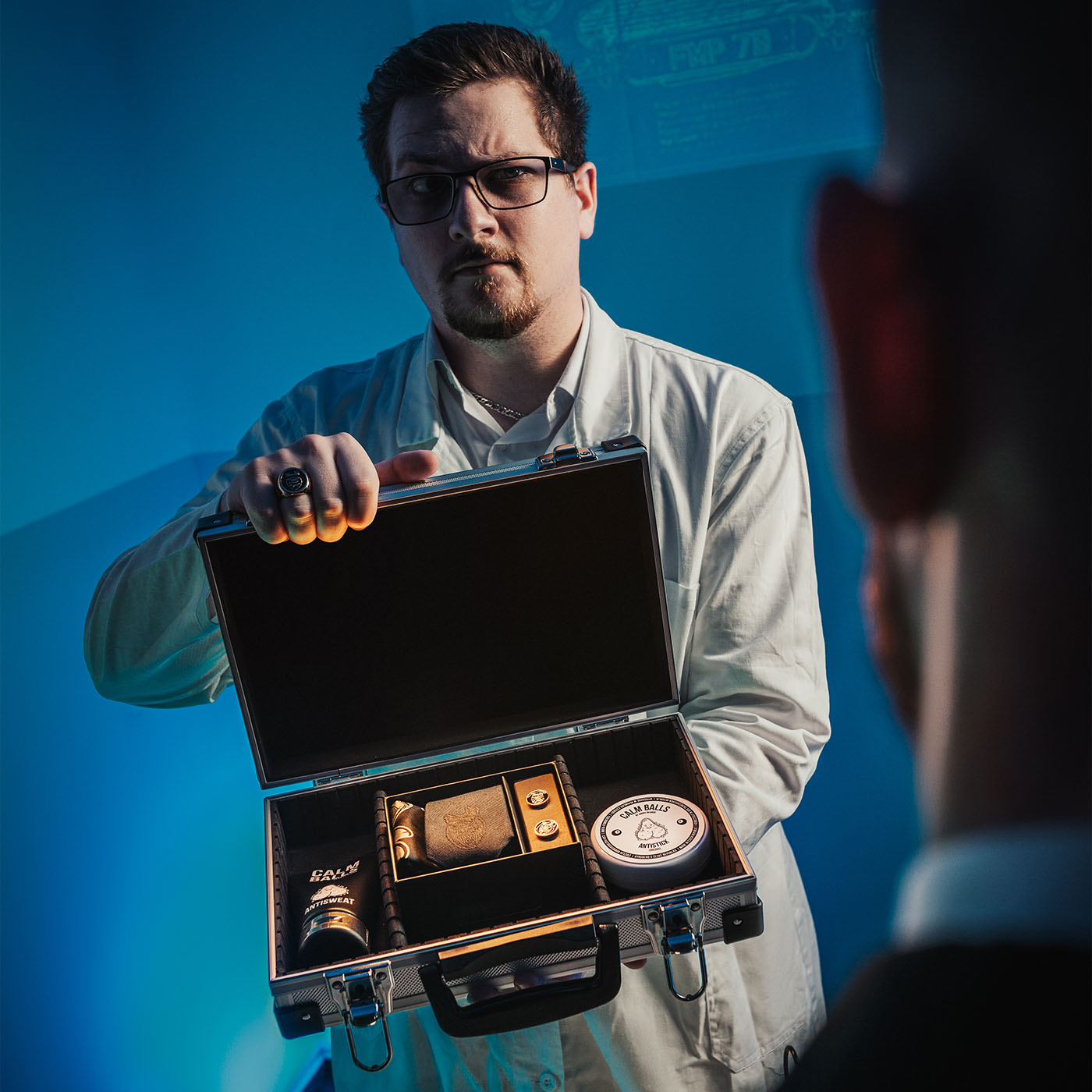 Just a guy and his sack. We admit that intimate cosmetics are a little unconventional. But there's no shame in it, and anyone with a sack should also have the balls to take care of it. It might seem tempting to invite a kitten over for a little help with the application, but we just want to warn you that taking care of the underdeck can cause a storm in the overdeck.
An agent shouldn't be battling his sack while in the field. His hands need to be free, not perpetually occupied with unsticking the stuck. That's why we're throwing in the legendary Calm Balls combo into the 007 set - Antistick, so you don't have to re-adjust your sack at every step, and Antisweat, so you can handle life-and-death operations without breaking a sweat.
#tab-Why you want it#
A classy tie with an almost undetectable level of angriness
A bourgeois pocket handkerchief for high society
Cufflinks with the angry beardie
Antistick and Antisweat to cover a wide range of missions
Stylish metal box
#tab-Why you want it#
​
#tab-Use#
TIE + CUFFLINKS + HANDKERCHIEF: Learn all thirty-seven tie knots and twenty-two ways to fold a handkerchief into a jacket breast pocket. Or tell your kitten she should know it from birth.
ANSTISTICK: Scoop an amount proportional to the area of your sack and spread it lightly in your hands. Then just apply evenly over your entire scrotum and rub the residue from your hands on your thighs and underballs to reduce adhesion to an absolute minimum.
ANTISWEAT: For maximum absorption, the deodorant should be applied to a dry and ideally clean sack. Apply a thin layer to your entire scrotum and wait a moment for it to dry. If you've overdone it somewhere, dust off the white spots. Use it whenever there is a risk of things getting tough, but feel free to use it just in case for that extra sense of security.
#tab-Use#
​
#tab-Ingredients#
A metal box stuffed with the best stuff Q found in the laboratory. A tie, cufflinks, a handkerchief, and the mighty duo from the Calm Balls series.
TIE + CUFFLINKS + HANDKERCHIEF: Black tie and handkerchief in 100% artificial silk. Metal cufflinks.
ANTISTICK: The whole magic of Antistick is in the balanced ratio of medical grade petroleum jelly, mineral oil, and silicones. Your balls are divinely cared for with Chinese tea tree extract (matcha), hops extract and ethyl ferulate (an antioxidant used against skin aging). Antistick is scented with geranium essential oil, red orange essential oil and a little menthol. We add this for a light kick of freshness that our little critters locked in their trunks need like a goat needs scratching. Although your balls need scratching, too.
84 g pack
ANTISWEAT: Antisweat is a gentle oleogel full of silicon and starch to absorb unwanted liquids, sweat and grease. Moisture isn't the only problem with sweaty scrotum though, another is its distinctive ballgame aroma. That's why you'll find things like sage extract and other body-odor-fighting substances in the ingredients. And so that your ballgame is in top shape until your retirement, we've also added to Antisweat glycerin and matcha extract, which is full of vitamins and minerals.
150 ml pack
#tab-Ingredients#
Be the first who will post an article to this item!