Antiperspirant spray Jack Saloon
Related products
Product detailed description
FROM SKUNKS, FOR SKUNKS
Stinking a mile away isn't cool. Especially when these days you can fix the smell with one squirt. We skunks are stinkier than a nun's fart, and we really don't want to imagine what it would be like in our office if everyone here was happy to stink under their beards. Armageddon! As the most qualified people, we put our heads together and worked out an antiperspirant even the Angry Beards gang wouldn't be ashamed of. It took a while, we tested it from the left, right, up, and down. But now we'd put our life on the line for it!!!
SKUNK LIFE
Being born a man means you have two armpits right under your nose. Sweaty beasts like us are doomed to a life of stink. Or there's antiperspirant.
RAP GOD
Hear my flow, when the arms up go, no cakes can grow. It's an assassination, absolute domination, only antipersp will make the girls sigh. Now everybody put your hands way up hiiiiigh!
Jack Saloon
Finely finished with a drop of the notorious fragrance combining herbs, fruits, peppermint, vanilla, sandalwood, and premium musk.
FUNCTION WITHOUT COMPROMISE
Everything to help tame perspiration without irritating your skin. We don't play the bio and organic game; we'd rather have one squirt of functional material than a bucket of herbal tea.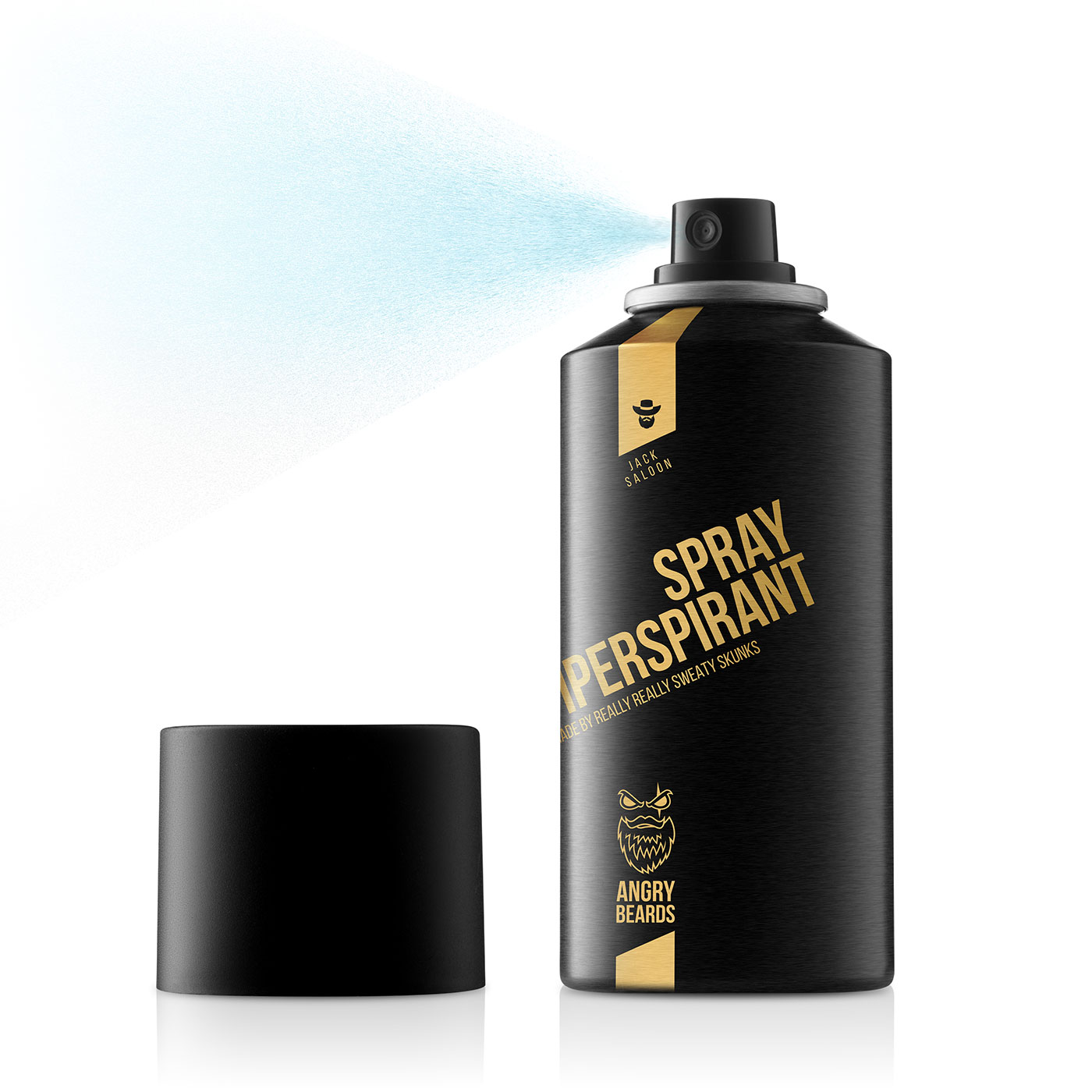 REDUCE SWEATING TO MINIMUM
Antiperspirants usually contain aluminum salts, which actively reduce sweating. When you add a drop of fragrance and a few other skin goodies, they make your armpits an oasis of freshness. To make the magic work, spray the antiperspirant into a clean armpit well in advance of sweating. If you deploy it in the locker room just before working out, the active ingredients don't have time for a real heart-to-heart with your sweat glands. The body will go into overdrive after the first ten minutes of cardio and all the antiperspirant will be carried away in streams of sweat. Spraying antiperspirant after exercise instead of a shower? Well, that's about as useless as the damn start-stop on modern karts. You're better off with cologne or perfume.
Wanna conquer the other stinks the male body produces? Check out the shoe and foot stink killers, Datesaver a Faksaver.
#tab-Why you want it#
Uncompromising tackler of underarm caking
Designed by skunks for skunks
One shot reduces sweating to a minimum
Perfected with a drop of the legendary Jack Saloon fragrance
Proudly produced in Czechia
#tab-Why you want it#
​
#tab-Use#
Pop the cap. Shake. And then just spraaaaay! Shoot a single blast into your armpit from 15 centimeters to stop sweating without being smelled a mile away.
PRO TIP: The sooner you spray before exercise, the better. If you send it in while you're in the locker room, the ingredients won't have enough time to start working out before you do.
#tab-Use#
#tab-Ingredients#
Antiperspirant is a pressurized solution to excessive sweating. We've mixed a combo of hellishly effective substances and, along with extremely sweaty bearded beasts, tweaked it to perfection. We're not playing around with herbal tea, we're using aluminum salt - a substance capable of taming a man's armpits on the first try.
We've topped it all off with a drop of our legendary scent, so the lure of all the females within range can begin.
150 ml pack
Ingredients:
Isobutane, Propane, Hydrogenated Farnesene, Butane, C12-15 Alkyl Benzoate, Aluminium Hydroxyl Chloride, Perfume, Bisabolol, Stearalkonium Hectorite, Caprylic/Capric Triglyceride, Propylene Carbonate, Cotton Extract, Perfume Ingredients (Linalool, Limonene, Coumarin, Alpha-Isomethyl Ionone).
---
Hazard:
Extremely flammable aerosol. Container is under pressure: may rupture when heated. Keep out of reach of children. Protect from heat, hot surfaces, sparks, open flames, and other sources of ignition. No smoking. Do not spray into open flames or other sources of ignition. Do not pierce or burn after use. Protect from sunlight. Do not expose to temperatures exceeding 50 °C. Do not breathe aerosols.
#tab-Ingredients#
#tab-Food for the bureaucratic red tape#
Ingredients: Isobutane, Propane, Hydrogenated Farnesene, Butane, C12-15 Alkyl Benzoate, Aluminum Chlorohydrate, Parfum, Bisabolol, Pogostemon Cablin Leaf Oil, Stearalkonium Hectorite, Prunus Amygdalus Dulcis Oil, Propylene Carbonate, Citronellol, Coumarin, Hexyl Cinnamal, Linalool, Limonene, Benzyl Salicylate, Alpha-Isomethyl Ionone, Geraniol.
#tab-Food for the bureaucratic red tape#
Be the first who will post an article to this item!