Related products
Product detailed description
MORE HAS MORE OF EVERYTHING
Want some advice? Don't underestimate perfume, because the first thing a guy penetrates on a girl is her nostrils. The term is derived from the Latin parfumare, in translation "to smoke through". And you can be sure that our More cologne will make you thoroughly smokin'. Perfume is the most intense fragrance ever and must contain at least 20% of aromatic compounds. But we always want more for you, that's why in Angry Beard's Jack Saloon, just like in Twofinger, you'll find almost two times the fragrant materials! Less is enough for you to give off more.
MORE perfume
A perfume for guys who want more out of life and who just won't settle for less. You will always get MORE from us – more fragrance, more power and more endurance.
ODOR CONTROL
Because our perfume can cover even the most horrifying smells that we produce during the day, we've given it this new prestigious label.
JACK SALOON
Our signature label combines herbs, fruits, peppermint, vanilla, rare woods and premium musk. If you're hesitating, the tester is the right choice.
Gift tube
An ordinary box wouldn't be enough. The precious scent is protected by a gift tube ready to make you happy.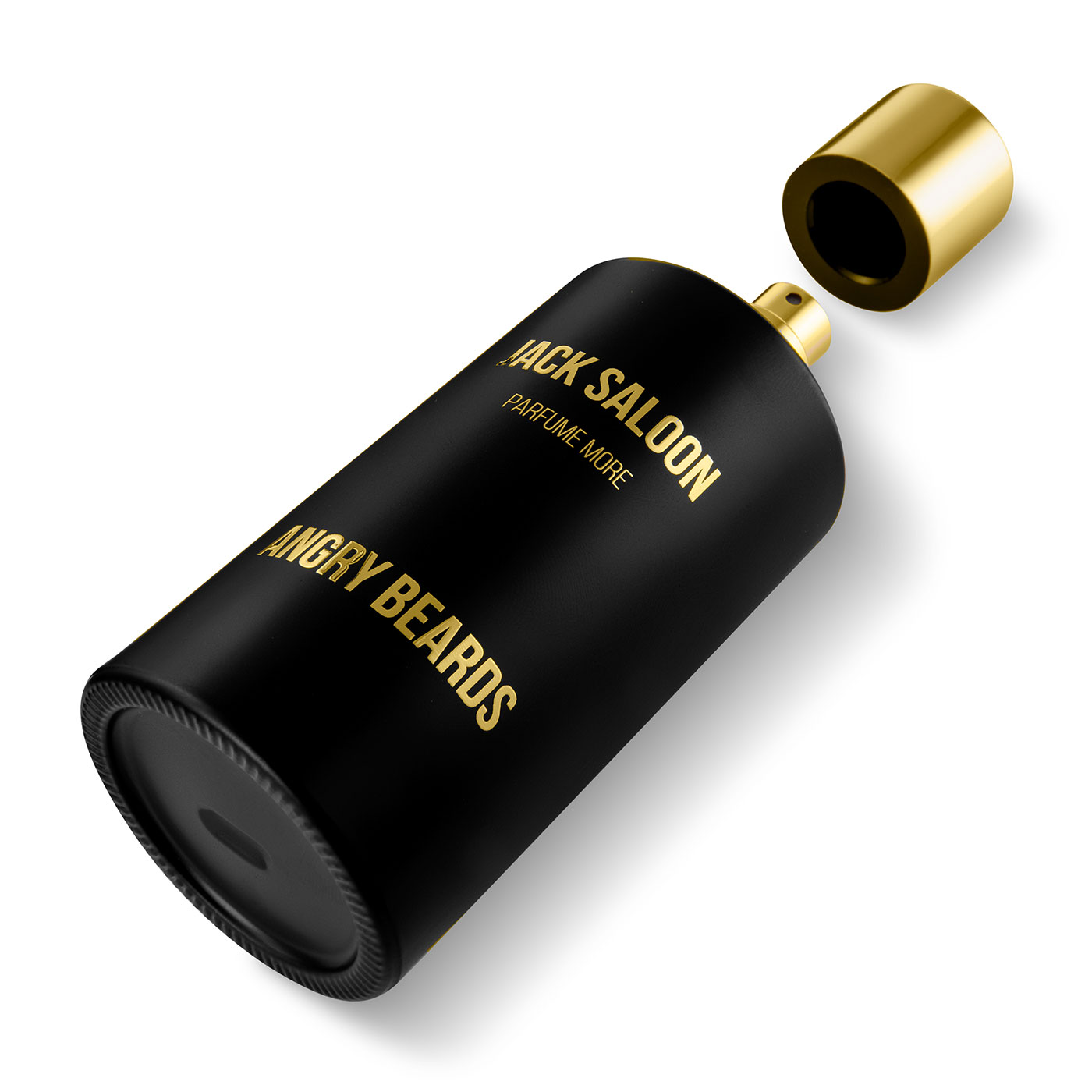 ODOR CONTROL & ART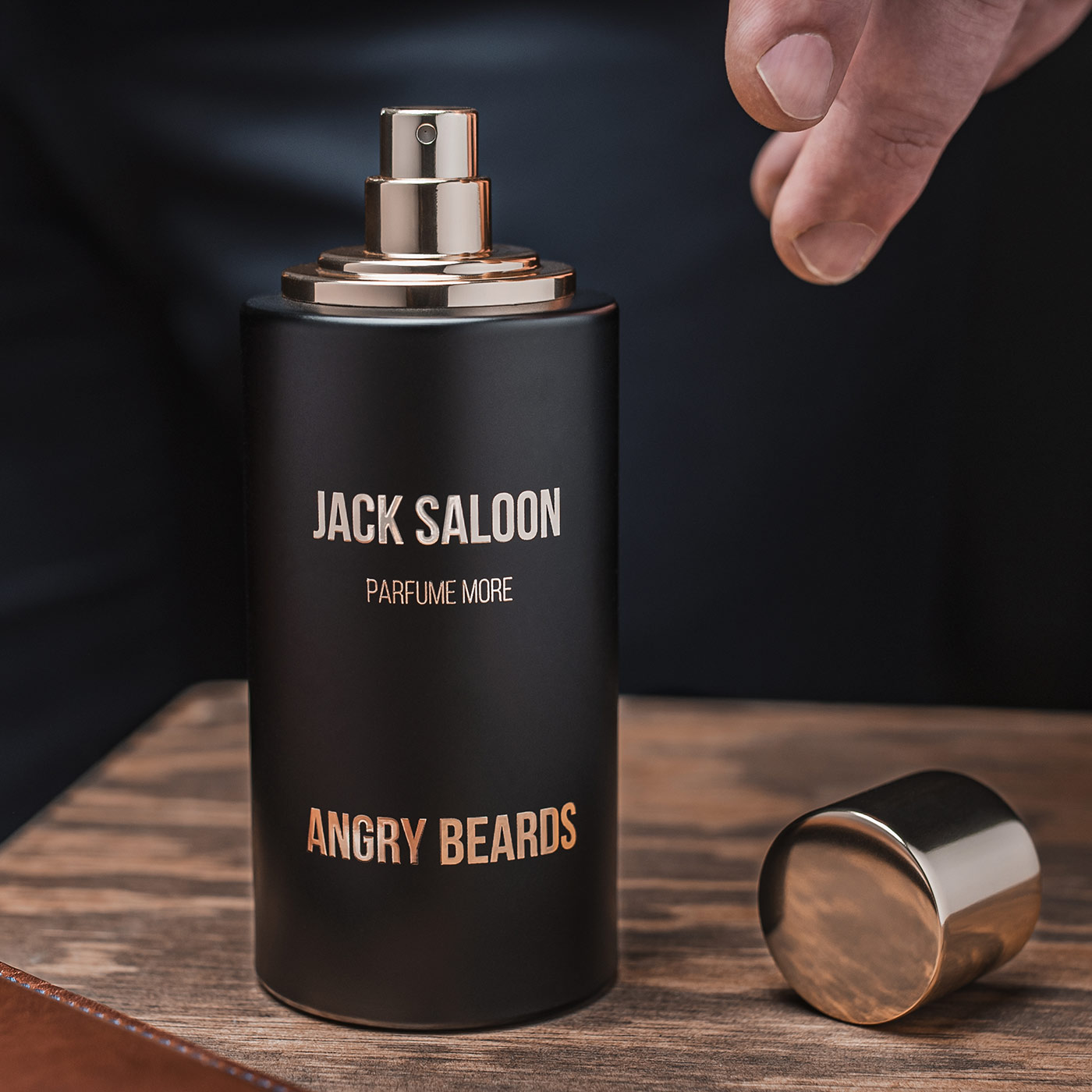 We don't have the technology patented yet, but our perfume keeps even the scariest guy smells under cover. No matter how much of a stinker you are, it will jump on your stank like a hunting dog hot on its prey and exchange it with a pleasant and playful scent.
This ball-breaking fragrance would be literally insulting in a regular box. This needs protection and style. A thick paper tube with an inner filler tailored to the MORE bottle. If you have a shelf dedicated to Angry Beard's cosmetics, this will be a masterpiece on your altar.
#tab-Why you want it#
A perfume that lasts all day and all night
Oriental fragrance full of fresh herbs, lavender and rare woods
Odor Control Technology
Perfected packaging
Proudly produced in Czechia
#tab-Why you want it#
​
#tab-Use#
Always spray the perfume directly on your skin so that it can spread out right and start to loosen up. Hot spots are right behind the ears and the back of the neck where your hair ends. If you have a hard day in the trenches ahead of you, or if you just want to accentuate the perfume, a spritz on the shoulder, chest and other exposed areas will do the job.
PRO TIP: So that you don't smell like an old prostitute straight off, start lightly. You can always add more and perfume is the most concentrated fragrance you can get on the market. 1 to 3 squirts is enough for most guys, big aromatics can take more, but keep in mind that less is sometimes more.
#tab-Use#
​
#tab-Ingredients#
Buddy, perfume composition is quite a science. The MORE perfume is a sophisticated complex of fragrances, ethanol and a few helpers. In the Jack Saloon perfume there is a heap of fresh scents accented with premium musk, vanilla, sandalwood and cumin.
Head
First, you'll be refreshed by the scents of orange, wormwood, and mint.
Heart
Immediately afterwards, a refined floral blend kicks in where you can detect lavender, geranium, orange blossom, violet and rose.
Body
And for the finale, the fragrance turns into a sweet and woody show composed of vanilla, musk and sandalwood.
100 ml and 2 ml tester packs
Ingredients:
DENATURED ETHANOL, PERFUME, PERFUME INGREDIENTS (COUMARIN, LINALOOL, ALPHA-ISOMETHYL IONONE, CINNAMAL, CITRAL, EUGENOL, GERANIOL, LIMONENE), SORBITAN OLEATE
#tab-Ingredients#
#tab-Food for the bureaucratic red tape#
INGREDIENTS: ALCOHOL DENAT., PARFUM, COUMARIN, LINALOOL, ALPHA-ISOMETHYL IONONE, CINNAMAL, CITRAL, EUGENOL, GERANIOL, LIMONENE, SORBITAN OLEATE
#tab-Food for the bureaucratic red tape#
Be the first who will post an article to this item!